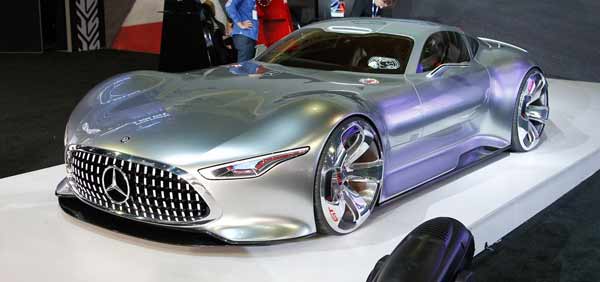 The Mercedes-Benz designers have developed the visionary concept of a super sports car – the Mercedes-Benz AMG Vision Gran Turismo. Extreme proportions, sensual contours and intelligently implemented high tech blend to form a breathtaking body.
The sports car proportions that are a typical Mercedes-Benz feature have been reinterpreted: the long bonnet has a flowing transition into a compact greenhouse offset to the rear, which takes the form of an aerodynamically efficient water drop to descend slightly at the rear, where it rests on the rear end with broad shoulder contours. The dynamic aura is accentuated by an extended, dramatic side contour and a pronounced bulge to the wheel arches, which blend into the low-slung, muscular bodyshell. The angled headlamps, with their colour scheme and determined look, convey a sense of sportiness and readiness to leap forward.
Another eye-catching feature is the radiator grille – a reinterpretation of the wide Mercedes-Benz sports car grille with central star. Its shape is reminiscent of the legendary 300 SL racing car of 1952. However, instead of classic louvres the grille of the show car features exclusively LEDs. The variable LED grille with different light patterns is a further development of the diamond grille introduced with the new A-Class.